Sunday, April 23, 2017, 18:38
Scientists predict a boom in this repulsive parasite in 2015, but simple measures can reduce your dog's disease risk.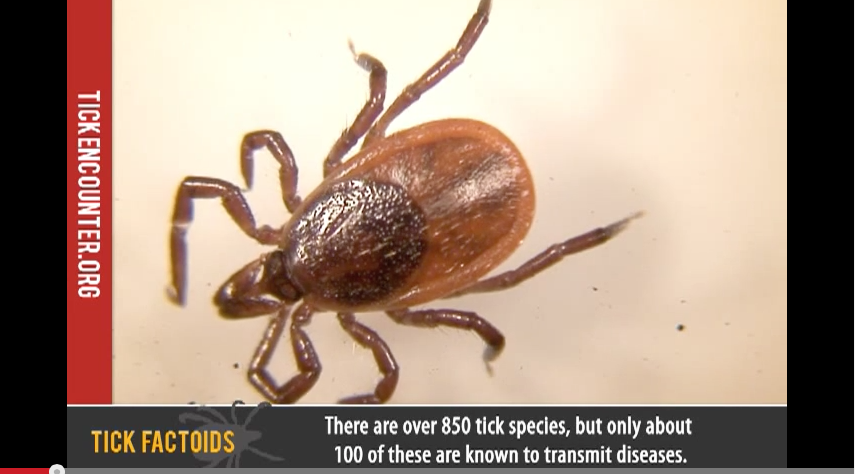 Even as temperatures soar toward triple digits, we are still suffering from one surprising effect of last winter's brutal snowfalls—more ticks.
Deep snow banks provided protection for these repulsive parasites, say scientists from the University of Rhode Island's TickEncounter Resource Center. That means a greater threat that you or your dog will pick one up during summer fun.
Several regions have already seen spikes in Lyme disease activity. In its 2015 forecast, the Companion Animal Parasite Council (CAPC) predicted a "higher-than-usual threat in areas where the disease is currently widespread" and some southerly movement. In Virginia, for example, scientists recently reported seeing a rise in the disease prevalence in the New River Valley and other areas to the west and south of regions where Lyme has been seen before.
The bacterium that causes Lyme is just one pathogen carried by ticks. Several other serious diseases, including Ehrlichiosis and Rocky Mountain Spotted Fever, are also spread in this manner.
There's no way to avoid ticks altogether, but the AKC Canine Health Foundation offers several tips to lessen the risk, including:
Learning about ticks and disease in your area;
Using preventives that can keep ticks off your dog, including topical treatments;
Limiting outdoor time;
Conducting frequent tick checks,
Staying alert for symptoms of tick-borne disease.
Content courtesy of: AKC.org
---
Sunday, April 23, 2017, 12:33
Following a pair of dog food recalls and illnesses to several dogs, the U.S. Food and Drug Administration issued a warning this week that thyroid tissue and thyroid hormones may be present in some pet food and treats made with livestock gullets (meat from the throat region).
"Pet food and treats made with livestock gullets … have the potential to contain thyroid tissue and thyroid hormones," the FDA said in an advisory issued Monday. "Pets that eat food or treats containing thyroid hormones may develop hyperthyroidism, a disease that is rare in dogs and usually triggered by thyroid cancer."
Symptoms of hyperthyroidism include excessive thirst and urination, weight loss, increased appetite, restlessness, hyperactivity, elevated heart rate, rapid and/or labored breathing, vomiting and diarrhea. Continued exposure to excess thyroid hormones can cause damage to the heart and, in some cases, death.
The FDA said the alert followed a recent Center for Veterinary Medicine investigation into reports of three dogs in different households that showed signs of hyperthyroidism. Extensive testing on all three dogs showed elevated thyroid hormone in the blood, but ruled out thyroid cancer, and reference lab interviews with the dogs' owners revealed that all three dogs had been fed one of two dog food products: BLUE Wilderness® Rocky Mountain Recipe™ Red Meat Dinner Wet Food for Adult Dogs and/or WellPet Wellness 95% Beef Topper for Dogs.
After the dogs stopped eating those foods for a few weeks, their clinical signs improved, and they returned to normal, the FDA said. An FDA lab tested unopened cans of both products and found that they contained active thyroid hormone, according to the advisory. The FDA concluded that the source of thyroid hormones likely was from the use of gullets from which the thyroid glands were not completely removed.
After consulting with the FDA, the manufacturers of both foods – WellPet, the maker of Wellness; and Blue Buffalo, the maker of Blue Wilderness – initiated voluntary recalls of select lots of the affected products on March 17:
WellPet voluntarily recalled 2-ounce cans of Wellness 95% Beef Topper for Dogs with best-by dates of 02 FEB 19, 29 AUG 19, and 30 AUG 19 printed on the bottom of the can. The UPC Code is 076344894506.
Blue Buffalo voluntarily recalled one lot of 12.5-ounce cans of BLUE Wilderness® Rocky Mountain Recipe™ Red Meat Dinner Wet Food for Adult Dogs with a best-by date of June 7, 2019, printed on the bottom of the can. The UPC code is 840243101153.
The FDA provided more detailed information about the involved dogs, the testing, and the issue of thyroid hormones in pet food in a separate Letter to Veterinary Professionals and Letter to Industry.
The FDA advised pet owners whose dogs have eaten either of these foods and show symptoms of hyperthyroidism to stop feeding the foods and consult their veterinarian, making sure to provide the dog's dietary history, including what the dog has been eating, how much, and for how long.
Consumers who have any of the recalled food should not feed it to their animals and can refer to the company press releases for further instructions about returns/refunds. The FDA website has additional information about both the WellPet recall and Blue Buffalo recall.
Questions about whether a particular pet food or pet treat product contains livestock gullets and/or thyroid hormones should be directed to the product manufacturer, the FDA said.
The AVMA staff monitors and maintains updated lists of animal food recalls and product safety recalls that can be viewed online at all times. AVMA members who would like to connect their clients to this information may do so by using these copy-and-paste website widgets. The AVMA also maintains the @AVMARecallWatch Twitter feed to share recall information in real-time.

Content courtesy of: AVMA.org
---